Shared Reading
The Reader, a charity based in Liverpool, trains people to deliver 'shared reading' in all sorts of community venues across the UK. 'Shared Reading' is reading aloud and taking about poems or novels. It is suitable for all abilities – readers and non-readers, and the focus is on the pleasure of the written word shared with others. There are groups for young mums, for people with dementia & their carers, and for prisoners. Groups read aloud and then chat about what they've heard. It is a lovely way of sharing thoughts about emotions and experiences. There is no 'teacher', and no hierarchy; the idea is to create a friendly, relaxed space in which people feel confident to talk about their responses to what they've read or heard.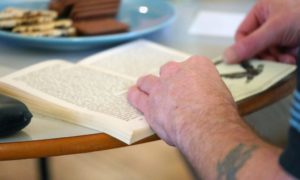 Research shows that 93% of attendees say they feel better after attending a shared reading group, and now 35 NHS Trusts are partnered with The Reader organisation. GP Helen Willows comments, 'The Reader's approach has the power to transform the lives of the people that we see day after day at our surgery – those that are stuck, perhaps with low mood or who are socially isolated – these are people for whom another tablet is not going to make a difference.'
KSCA contributed towards the expenses of training our Secretary, Vicki Woof / Bertram, who is now a Reader Leader. Vicki goes into Christian Head once a week, taking poems to read to the residents.
If you would like to find out more, please contact Vicki c/o Kirkby Stephen Community Arts or visit The Reader's website: thereader.org.uk
(coming soon) – Community Theatre Project