KSCA Steps Up: Youth Project
Kirkby Stephen will experience a live spectacle this July, created and performed by young people from the community. Pupils from Kirkby Stephen Grammar School, Appleby Grammar School, Kirkby Stephen Primary School, Orton C of E School, Tebay Primary School and Warcop C of E Primary School will work with nationally-renowned theatre company Tangled Feet to create a bespoke theatrical performance. Pupils will be invited to work across all aspects of the production; Acting, music, design, backstage, scriptwriting, media, marketing and catering. The Westmorland Family will provide support with catering and Theatre by the Lake, Keswick will volunteer their backstage and administrative expertise.
The rehearsal process will take place at Kirkby Stephen Grammar School.
Performances:
Fri 13th July & Sat 14th July
(delicious bowl food on sale, provided by Westmorland Ltd)
Performance times and tickets will be available from Mon 9 July.
Any secondary school students from Kirkby Stephen Grammar or Appleby Grammar , from years 7,8,9,10, 11, 12 or 13, who wish to register to take part & have not already done so should email us quickly! Or, if you've already registered but have a question, just get in touch:
vicki@furrowgreen.co.uk
elizabethkatelynch@gmail.com
Kate Lynch, Chair of Kirkby Stephen Community Arts said "Since we began in September 2016 we have been looking for a theatre project to run with and for young people. Inspired by the successes of Bloody Bones and the recent production of Bugsy Malone at KSGS, we are thrilled that we can make this happen thanks to the generosity of our funders, the enthusiasm of Kirkby Stephen Grammar School and the talents of our partners, Tangled Feet, Theatre by the Lake and The Westmorland Family."
KSCA are grateful for funding from The Frieda Scott Charitable Trust, The John Strutt Foundation and The Westmorland Family.
Shared Reading
The Reader, a charity based in Liverpool, trains people to deliver 'shared reading' in all sorts of community venues across the UK. 'Shared Reading' is reading aloud and taking about poems or novels. It is suitable for all abilities – readers and non-readers, and the focus is on the pleasure of the written word shared with others. There are groups for young mums, for people with dementia & their carers, and for prisoners. Groups read aloud and then chat about what they've heard. It is a lovely way of sharing thoughts about emotions and experiences. There is no 'teacher', and no hierarchy; the idea is to create a friendly, relaxed space in which people feel confident to talk about their responses to what they've read or heard.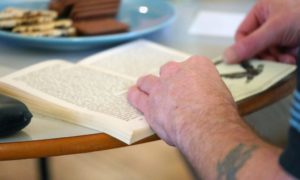 Research shows that 93% of attendees say they feel better after attending a shared reading group, and now 35 NHS Trusts are partnered with The Reader organisation. GP Helen Willows comments, 'The Reader's approach has the power to transform the lives of the people that we see day after day at our surgery – those that are stuck, perhaps with low mood or who are socially isolated – these are people for whom another tablet is not going to make a difference.'
KSCA contributed towards the expenses of training our Secretary, Vicki Woof / Bertram, who is now a Reader Leader. Vicki goes into Christian Head once a week, taking poems to read to the residents.
If you would like to find out more, please contact Vicki c/o Kirkby Stephen Community Arts or visit The Reader's website: thereader.org.uk